Welcome to the Cobalt Release Blog! This highlights improvements we made in February to our Pentest as a Service (PtaaS) platform, as well as useful information and best practices from our product teams, engineers, and pentesters.
For Customers
Azure DevOps, ServiceNow & BitBucket beta integrations
New Beta Integrations
We're introducing three new beta integrations, Azure DevOps, ServiceNow and BitBucket, to provide greater flexibility and expanded connectivity with the tools your teams use every day. You can enable these for a pentest to automatically push new findings into your task management software. During the beta phase, our Integrations team will configure and activate the integration according to your requirements.
Want to try a beta integration? Navigate to the Integrations tab in the Cobalt platform, and select an app with the Beta label.
Subscribe for Asset Vulnerability Updates with Risk Advisories
Subscribe to email alerts for potential critical vulnerabilities discovered in your assets. Whenever there is a new vulnerability reported on the National Vulnerability Database (NVD), we send out an email notification to subscribers within 24 hours. We only send notifications for vulnerabilities that have a CVSS v3.0 Rating of 9 or higher.
With real-time notifications, you can start remediating the risk faster, without having to constantly check for updates in the Cobalt app.
To subscribe to notifications for an asset, go to the Asset page and click on the bell icon.
To unsubscribe from notifications, click on the bell icon again.
Filter and Sort Data with the Public Cobalt API
Assets, Findings, and Pentests all filter by specific fields and can be sorted based on most requested fields by customers. We also updated our public documentation and provided examples on how to use filtering and sorting properly. You can take a look here: Cobalt API Documentation.
Save Changes Prompt when Navigating
We now provide a "Save Changes" modal to customers if they wish to navigate away from their edit session either on the Asset details or Pentest details page. On the pentest brief, the platform also allows customers to save required fields before the brief is completely filled out.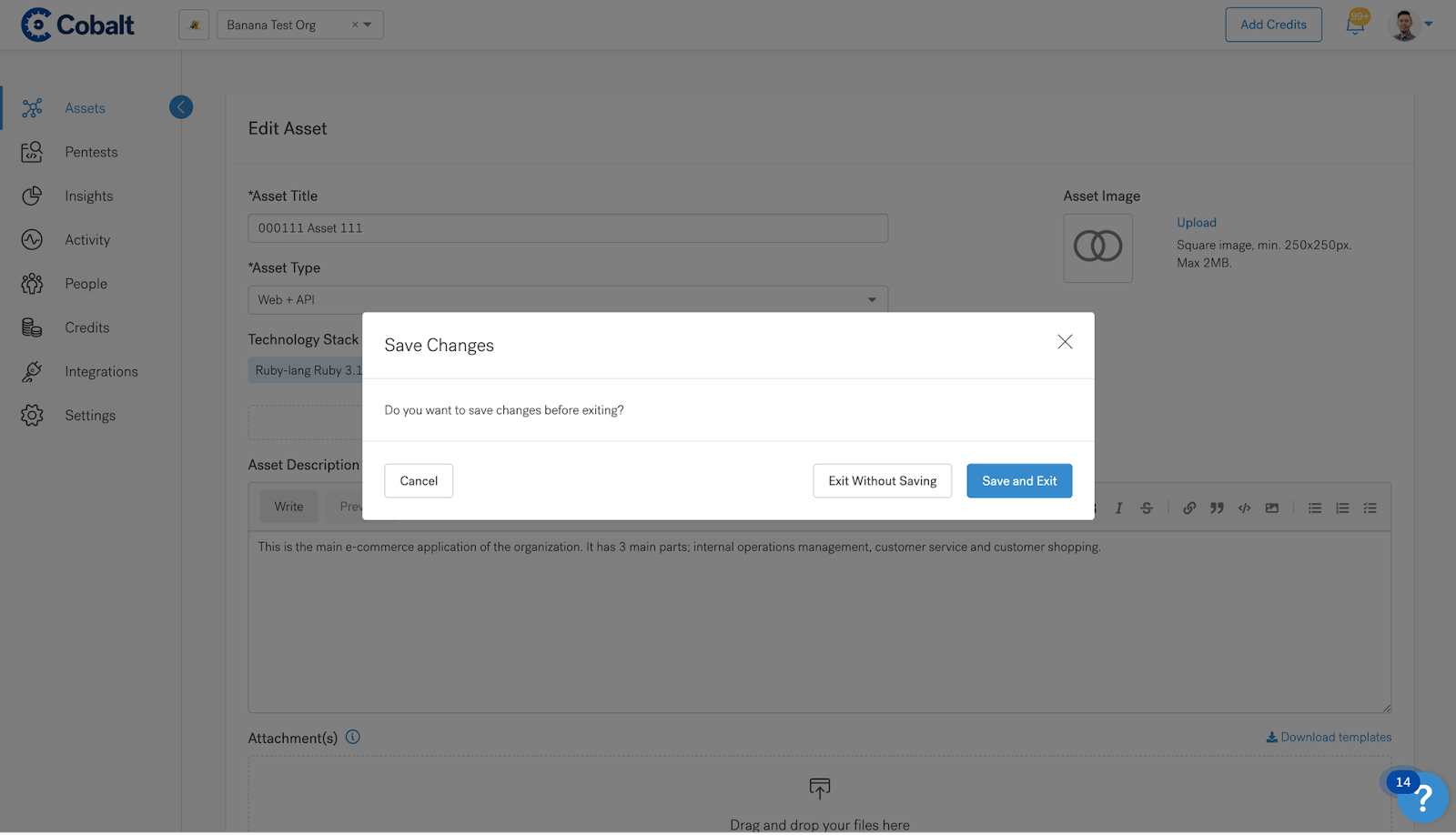 See you again next month!