Looking back on the year 2020, the world saw a massive change in the ways nearly everyone lives their daily lives. This trend brought about by the physical world quickly stretched into the digital one. As Coronavirus spread, we saw a drastic increase in cyberattacks ranging from phishing attacks to sophisticated supply chain management attacks which took the digital world by storm.
The FBI reports that since the start of the coronavirus, cyberattacks have increased by 300%. This trend also highlighted by Google, showed the company blocked over 18 million coronavirus phishing attempts each day at the start of the pandemic. Overall the cyber threat trend continues to increase with more and more businesses and people relying on the internet to conduct their daily activities.
With that in mind, let's dive into the cybersecurity data to see some of the biggest statistics going into 2021.
Top Cybersecurity Statistics for 2021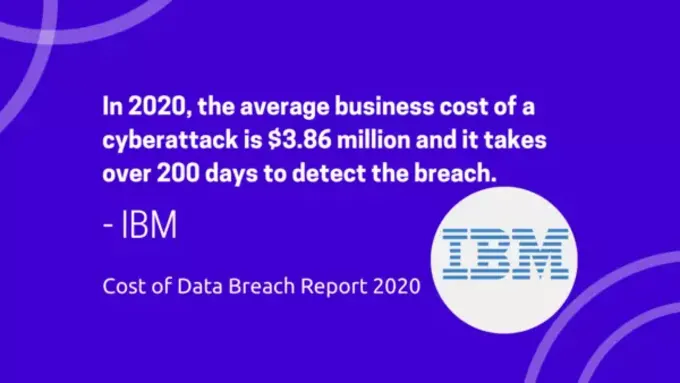 Ransomware Statistics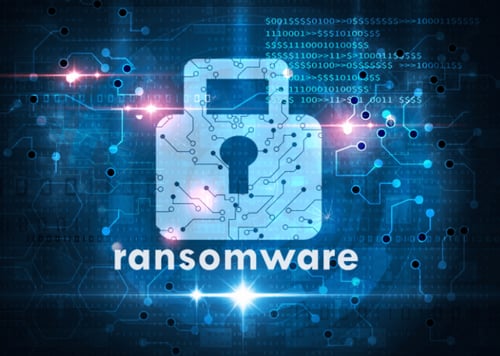 Ransomware does not show any sign of slowing down. Looking at the 2020 statistics for these attack vectors, companies continue to pay a high price for both. Furthermore, attackers target a wide range of entities from local and national governments to businesses and nonprofits, creating a challenging approach to solve for.
Malware Statistics
Malware-related expenses for companies rose 11% since 2019, reaching $3.2 million. (Accenture)
Research from CSO Online shows that nearly 95% of all malware attacks are delivered via email. (CSO Online)
The majority of malware attacks took place in North America with over 80% executed as an automated bot attack. (Statista)
Social Engineering Attacks
Statistics continue to show social engineering playing a part in a vast number of breaches. This includes malicious tactics such as phishing attempts, baiting, and tailgating.
Interesting, phishing attacks account for the first attack vector of nearly 1 in 3 of all cyberattacks. (Verizon, 2019)
The charts below showcases how prevelant social engineering attacks are.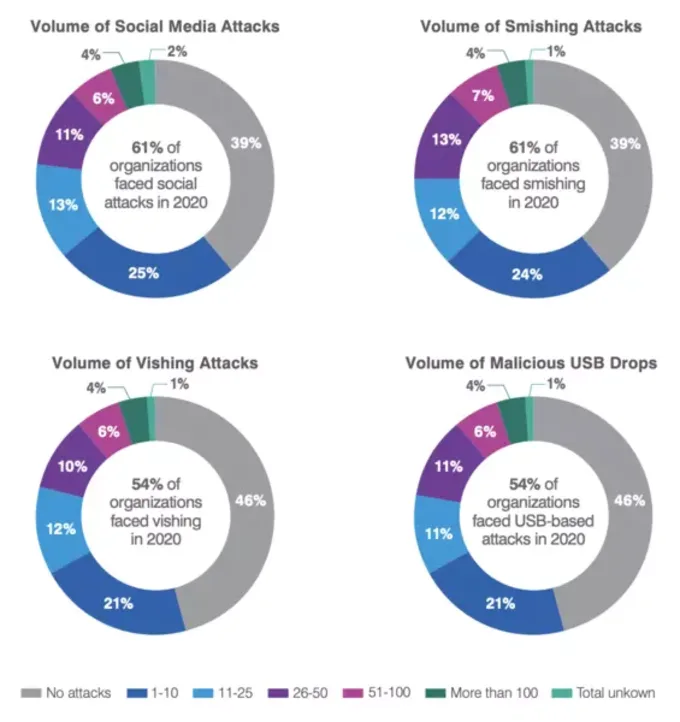 Source: Threat Report 2021 State of the Phish Report (Publication). (94085). Sunnyvale, CA: Proof Point.
Successful Hacking Attacks in 2020
There were dozens of different attacks in 2020, with likely more to be discovered and reported to the public in the near future.
According to Identity Force, the first quarter of 2020 showed a massive increase in breaches at the tune of 273% compared to the same data in 2019. Through this, we continue to see data breach statistics rising as a direct result of an increasingly connected digital world.
Solarwinds SUNBURST Attack
This attack is having such a large impact on what cybersecurity professionals will focus on for years to come. The Solarwinds breach highlighted the hyper-connected world we live in today and showed cybersecurity experts how vulnerabilities could pose a risk through 3rd party software integrations, putting an immense focus on supply chain attacks.
This breach of a supply chain system by suspected Russia's Cozy Bear hacking group truly highlights an example of an espionage motive but still left consequences for many businesses unprepared for this type of attack.
Industry-Specific Cybersecurity Statistics
Public companies lose an estimated 8.6% of their value after a cyber breach, according to Comparitech. (Comparitech)
66% of businesses experienced some form of phishing, including the most common type, spear-phishing attacks in 2020. This is down from 83% in 2019. (Proof Point)
French and Japanese companies are least likely to pay a ransomware attack and also see fewer breaches. (Proof Point)
According to Proof Point's research in the chart below, engineering and telecommunication companies struggle the most with phishing attacks with legal firms and hospitals pass phishing tests more frequently.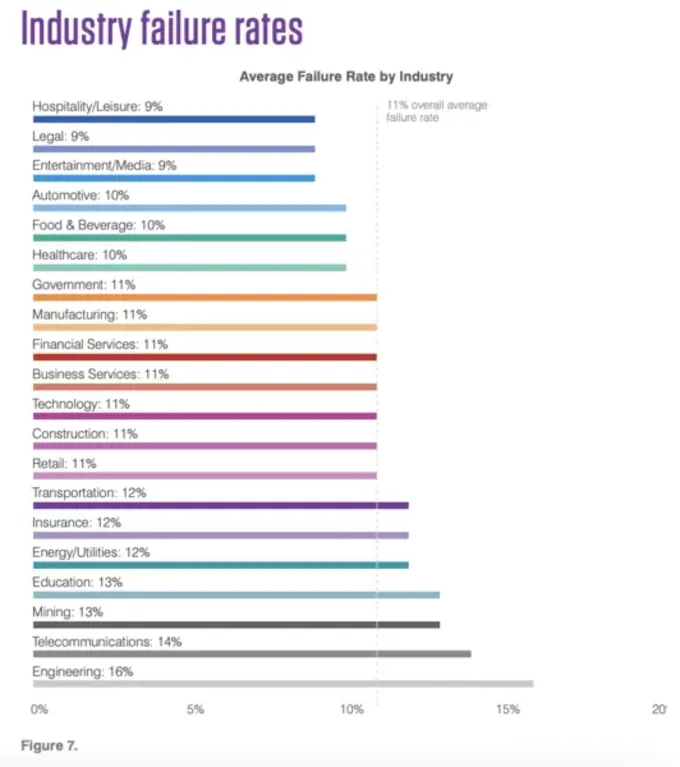 Source: Threat Report 2021 State of the Phish Report (Publication). (94085). Sunnyvale, CA: Proof Point.
Small Business Attacks
43% of small businesses have no cybersecurity defense plan in place. (Bull Guard)
Bull Guard also notes in the report that 60% of small business owners do not think their business is a target for cybercriminals.
74% of small business attacks were executed by external actors, as opposed to internal employees, as reported in the Verizon 2020 report. (Verizon)
84% of small business attacks focused on the monetary gain with 8% focused on espionage and the remainder focused on hacking for fun or grudges, again reported by Verizon.
22% of small businesses transitioned to remote work without a cybersecurity plan in place. (Alliant)
Healthcare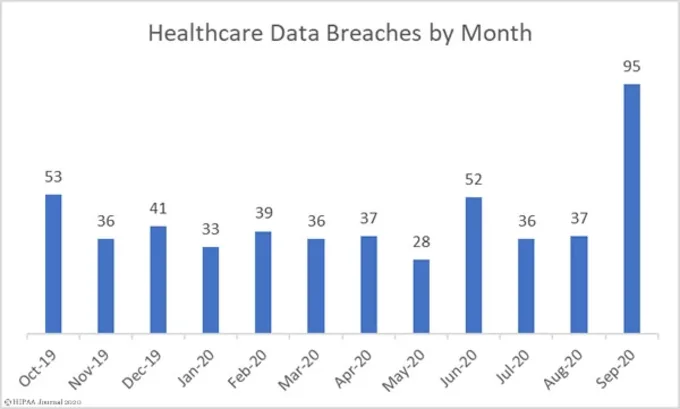 Source: Alder, S. (2020). September 2020 Healthcare Data Breach Report (Rep.). HIPAA Journal.
September 2020 saw over 9 million medical records stolen. (HIPAA Journal)
September 2020 experienced 300% more breaches than the monthly average from 2020 of only 37.25 breaches per month in the healthcare sector.
A single SaaS provider to the healthcare industry led to the 300% increase when their systems were breached. (HIPAA Journal)
Education Sector
41% of cybersecurity breaches were caused by social engineering attacks. (Impact)
228 cyber breaches were reported last year specifically within the education sector in Verizon's 2020 cybersecurity report, which analyzed 20 different sectors.
A vast majority of attacks were with ransomware, accounting for nearly 80% of education industry malware attacks. (Verizon)
Around 30% of education employees failed to pass a phishing test but this fell to around 5% after cybersecurity awareness training. (KnowBe4)
Financial Services
Frequently asked questions
What types of cyberattacks occur by percentage?
The most common cyberattack is a hacking breach and cyberattacks occurred with the following frequency:
45% of breaches included hacking
22% of breaches included errors as causal events
22% included social attacks
17% included malware
8% involved misuse by authorized users
How many cyberattacks per day?
According to Security Magazine, there are over 2,200 attacks each day which breaks down to nearly 1 cyberattack every 39 seconds.
What percentage of cyberattacks include a social engineering aspect versus a technical problem?
According to Cybint, nearly 95% of all digital breaches come from human error.
Top Cybersecurity Statistics Reports
In closing, learn more about how a PtaaS platform helps promote a more secure digital environment for your company. Explore pentest pricing today!