Every year in security we hear about more cyberattacks. With ransomware, zero-day exploits, data breaches, and such impacting businesses more frequently, cybersecurity has quickly become more of a priority for companies than ever before.
To help better inform decision-makers against cyber threats, we've compiled a list of 123 cybersecurity statistics for 2023, broken down by category to help you quickly find the most useful statistic for your needs.
General Cybersecurity Statistics
Cybersecurity spending is estimated to exceed

$188 billion in 2023

. (Seeking Alpha)
There will be nearly

3.5 million open cybersecurity jobs

waiting to be filled in 2023. (Cybersecurity Ventures)
65% of board members felt that their organization was at risk of a cyberattack. (CPO Magazine)
Nearly 70% of organizations reported a

labor shortage

for their security team. (ISACA)
94% of security teams and 93% of development teams report being impacted by talent shortages. (State of Pentesting Report 2022)
77% of

security professionals

surveyed by ISC2 reported they are

either satisfied or extremely satisfied

with their job which has risen from 66% in 2019. (ISC2)
Also reported in the same ISC2 survey, 55% of security professionals transitioned from IT before working in security.
69% of MSPs report their clients struggle with compliance. (Kaseya)
Google and Microsoft pledge to invest more than $60 billion over a five-year period to improve cybersecurity systems. (CNBC)
The global automotive cybersecurity market is estimated to grow to $9.7 billion by 2023. (McKinsey)
In 2022, the Internet of Things (IoT) market is expected to grow 18% to 14.4 billion connections worldwide. (IoT for all)
44% of surveyed respondents note that they do not provide cybersecurity training to their staff regarding threats of remote work. (Databasix)
80% of organizations surveyed have adopted Zero Trust or are in the process of adopting it. (Statista)
Cost of Cyberattack Statistics
Statistics by Attack Type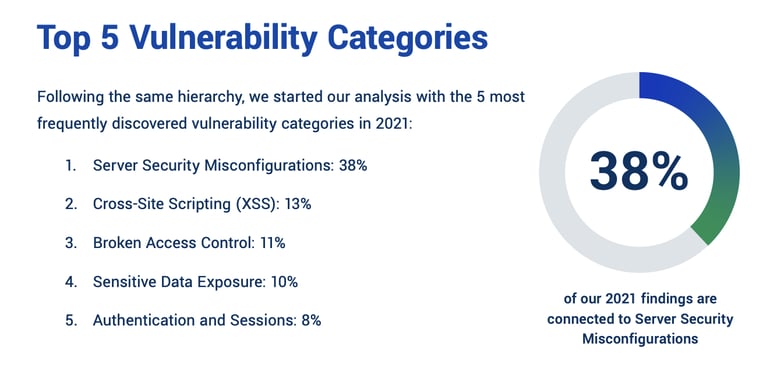 Server Security Misconfigurations account for the most frequently discovered vulnerability category found in Cobalt's State of Pentesting Report 2022, followed by Cross-Site Scripting and Broken Access Control.


Ransomware Statistics
Malware Statistics
Zero Day Exploits & DDoS Attacks
Nearly half of all zero-day exploits have taken place in the last decade, highlighting a growing trend. (CyberScoop)
50% of existing 0-day exploits from 2022 are variants of previously remediated vulnerabilities. (Google Project Zero)
In the first half of 2022, Apple discovered seven zero-day exploits in their technology. (Dark Reading)
In Q3 of 2022, Kaspersky's DDoS Intelligence system detected nearly 60,000 attacks. (SecureList)
Kaspersky also reported that the busiest day for DDoS attacks were on Friday and the slowest day was Thursday.
In a Cloudflare survey, 1 out of every 5 survey respondents who experienced a DDoS attack reported the attack included a Ransom DDoS or other threat. (Cloudflare)
Social Engineering Attacks
DevSecOps Statistics
Privacy Statistics
Industry-Specific Cybersecurity Statistics
Small Business Attacks
Only 50% of small businesses have a cybersecurity plan in place. (UpCity)
Small businesses account for 43% of cyber attacks. (Small Business Trends)
Only 14% of small businesses are prepared to defend themselves against cyber attacks. (Embroker)
The most common types of attacks on small businesses are phishing/social engineering, compromised/stolen devices, and credential theft. (Forbes)
60% of small business owners do not think their business is a target for cybercriminals. (Bull Guard)
80% of attacks were conducted by external actors as opposed to internal employees. (Verizon)
96% of attacks focused on monetary gain for all organizations but this drops to 71% for larger organizations, again reported by Verizon.
Healthcare
Education
Financial Services
According to the 2022 Phishing report, over 43% of banking employees at large firms are poised to fail a phishing test. (KnowBe4)
Only 71% of all attacks are financially motivated. (Foundly)
The financial sector saw over 2,500 incidents with nearly 700 of those classified as a successful breach. (Verizon)
SaaS
The Security-as-a-Service sector is estimated to grow to be worth nearly $23 billion by 2026. (Mordor Intelligence)
The leading cause of SaaS misconfigurations are reportedly due to a lack of visibility and access control. (Adaptive Shield)
The same survey from Adaptive Shield showed that 63% of respondents had a SaaS misconfiguration which led to a security incident in the last year.
40% of respondents say they utilize SaaSOps products for "mission critical" or essential IT functions, reported in a BetterCloud survey. (Help Net Security)
FAQ
What types of cyberattacks occur by percentage?
The most common cyberattack is a hacking breach and cyberattacks occurred with the following frequency:
45% of breaches included hacking
22% of breaches included errors as causal events
22% included social attacks
17% included malware
8% involved misuse by authorized users
How many cyberattacks per day?
According to Security Magazine, there are over 2,200 attacks each day which breaks down to nearly 1 cyberattack every 39 seconds.
How many people get hacked each year?
With around 2,220 cyberattacks each day, that equates to over 800,000 attacks each year.
What percentage of cyberattacks include a social engineering aspect versus a technical problem?
According to Cybint, nearly 95% of all digital breaches come from human error.
Which year had the worst cyberattacks in history?
Unfortunately, the worst attacks appear to be broken with each passing year.
In 2021 though, there were two noteworthy large-scale cyberattacks that impacted the world which had a larger impact than anything we saw in 2022.
First, the Colonial Pipeline ransomware attack shut down one of the largest oil pipelines in the United States. Second, the Log4J vulnerability also hit the world in 2021, which hit many large infrastructure providers such as AWS.
Explore more about the biggest hacker attacks in history.
How to prepare for a cyberattack?
This is a difficult question to answer without more context but in general, cybersecurity best practices should be followed such as strong passwords, 2-factor authentication, don't click suspicious links, using antivirus software, backup your data, and limiting the personal information you share online.
Read more about how to prepare for a cyberattack with a guide from FEMA.
Top Cybersecurity Statistic Reports
In closing, remember that knowing all the security statistics in the world won't help you secure your assets. Instead, use these statistics to help receive buy-in from executives and team members trying to understand how investing in security pays dividends.