This post is the third in a series of three posts about hackathons at Cobalt. Read the first post, Why we do hackathons and the second post, How we do hackathons.
A good hackathon process plays a very important role to boost creativity and innovation. Processes matter and people matter. Extraordinary people pursue innovative ideas through processes designed by Cobalt that are perfectly suited to their talents. Moreover, Cobalters even contribute to hackathon workflows by volunteering their help, participating in feedback surveys, and providing their insights and learnings.
During the past two hackathons, Cobalters had a safe space to proactively submit ideas, join creative teams, and experiment in many ways, including:
Meet peers across departments;
Solve unprioritized problems;
Bring risky solutions to life;
Try out new technologies;
Speed up the learning curve;
Gain confidence in their skills;
Practice to delegate and mentor;
Switch context and work on non-Cobalt projects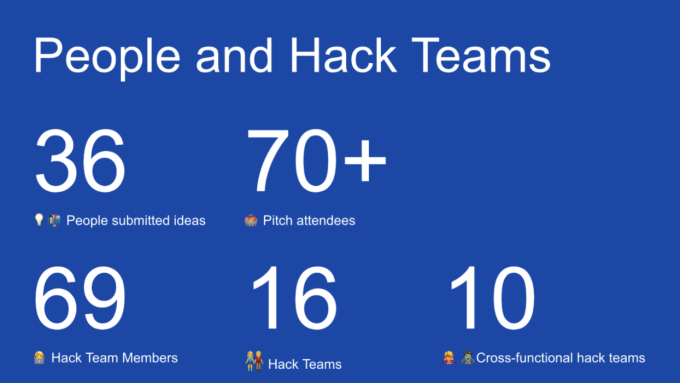 Winners
Who are the people behind hackathon ideas who bring them to life, and what are their experiences and feedback?
Hackathon 01 (December 2021)
During the first hackathon, we had one winner that was selected based on most votes. The difference in votes compared to other ideas was tremendous. No doubt that winner had the best prepared pitch, and the idea itself was inspired by Product Led Growth (PLG) initiatives that Cobalt as an organization is leaning towards.
Team Lobbyists: New Customer Dashboard
The winning team included 8 people, making it the largest. Lobbyists collaboratively built two views of the Cobalt Platform dashboard. One view for a prospect, and one for a customer.
Using "Lobby" as a metaphor in the pitch highlights the importance of having a place where users can receive guidance after they log in to the Cobalt platform, and also review a status of the steps to a successful onboard at Cobalt.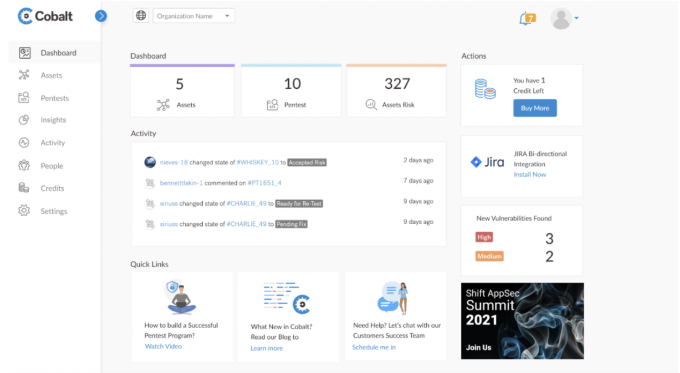 "Hackathon helps groups of different members to collaborate, diversify and think outside of their usual environment. Especially from a remote-first company perspective, it's a team building exercise where everyone gets to participate and hone creative thought processes to solve a problem. One thing I learned is to work with people from different departments and to scope the project to something really small and enable the team members to execute at their best." – Danny, Senior Product Designer
Hackathon 02 (May 2021)
During the second hackathon we decided to reward more people, as every team has its own strengths, so we created 3 nominations:

Best Demo: The A-team (Increase keyboard navigation support)
The team's goal was to address accessibility problems and make Cobalt's platform usable by as many people as possible. Their pitch opens up opportunities to navigate through keyboard configuration and enables pentesters and customers to navigate as they prefer. The cross-functional team with CS, Sales, Product, Design, and Engineering representatives was able to evangelize and educate about accessibility, as well as complete their work at a quality level that was production-ready.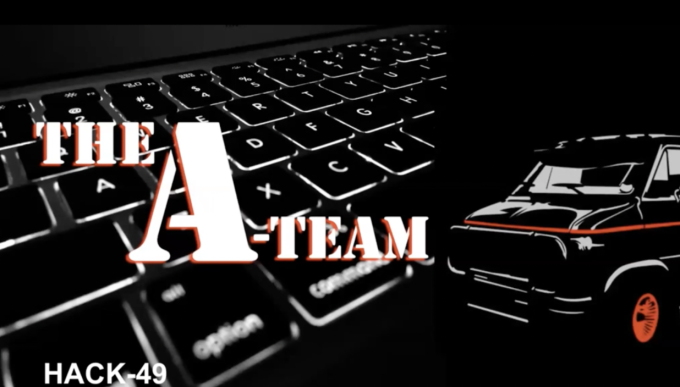 "When I created the idea to add keyboard navigation support to the app, I didn't expect that there would be a lot of interest. It turned out that even people who didn't understand the need for these changes became invested in accessibility after reading about the potential scenarios where keyboard navigation is useful. It's so exciting to see that the hackathon led to more support for implementing accessibility improvements." – Jess, Software Engineer
Most Inventive or Creative Idea: C4T Minters (Ethereum blockchain)
Pentesters are working above and beyond every day using their creative thinking and problem solving skills. The team designed a solution for rewarding and recognizing such pentesters by creating Cobalt currency. Pentesters could earn this currency if they are performing certain actions in the platform that automatically trigger transactions of Cobalt currency on their accounts, and they can spend tokens on Cobalt swag, advanced profile customization options, and buy AMA slots with the VP of Pentest Operations.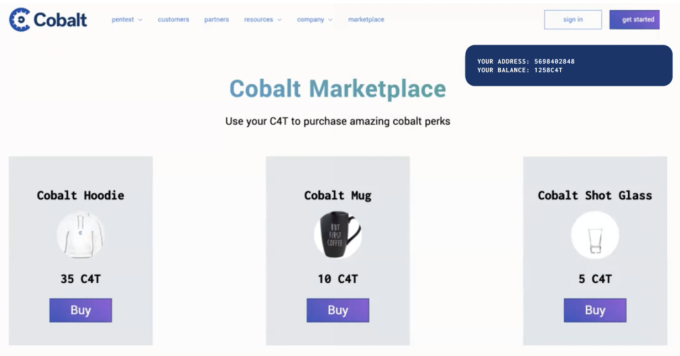 "The top 3 outcomes for me are: The opportunity of working and learning with other people impacted me. The chance to work on something that adds value and at the same time something that I wanted to do. Taking time to have a break from your everyday to-dos and do something fun. I saw everyone having fun even though they were working. That's a good feeling." – Max, Software Engineer
"The Hackathon was a great opportunity for me to learn something that I would never have found the time to pursue. This time it was building something on the Ethereum Blockchain. Next time it could be something in Machine Learning. It was also a nice opportunity to meet with colleagues from different teams and departments. I'm grateful that Cobalt gave us two whole days to work on it and can't wait for the next one!" – David, Senior Software Engineer
Best Overall Hack: Zero Clicks.
This team was empathizing with DevSecOps culture that is fully automated: How to trigger a pentest automatically when new code has been deployed, and how to speed up the pentesting process and enable pentesters to focus on business logic? A cross-functional team of Sales, Engineering, PenOps, and Product Marketing targeted this problem by introducing a new workflow for customers and pentesters. The value proposition is to rapidly release new features with fast and reliable pentests.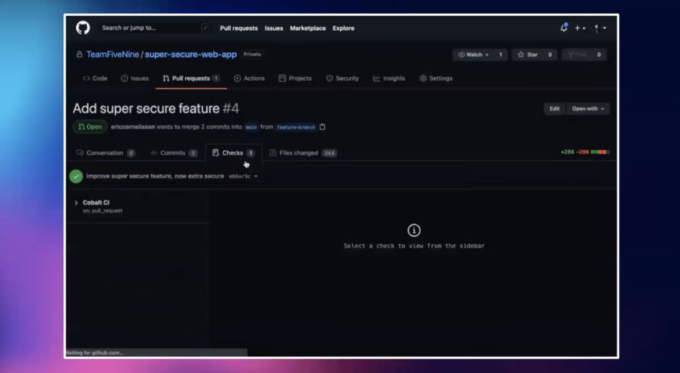 "Hackathons at Cobalt enable fast-paced innovation by stress testing proof-of-concepts and proving impact in a very efficient, collaborative and fun way. Each pitch carries entrepreneurial vibes, very cool!" – Robert, Manager, Penops Research
More Insights
During these two hackathons we had many more great people who didn't get any award, but got excitement, motivation, pushed their limits, and learned new sides about their teammates. Here are the highlights from a couple of those people:
"Hackathon outcomes for me include: Get a better understanding of the steps to construct a product idea from development, technical details to final design; How to collaborate across-teams; Hear ideas from others at Cobalt and creative takes on how we could improve our organization (product, website, processes)" – Marion, Senior Customer Success Manager
"My learnings during the hackathon: Getting to know the level of skills, enthusiasm and collaboration that Cobalt tech people have; Learning that when we put focused effort to something with a time constraint, we can actually deliver good stuff pretty fast;" – Ali, Director of Finance
"During the first hackathon, I honed some technical knowledge that I had already used in my work, but it was not at my fingertips, but here I needed to quickly try solutions one after another to find a working one, and for me it was like that small breakthrough. It became clear that the hackathon is such a fast-track way to learn to use technical knowledge that I was not sure of." – Evgenia, Software Engineer
Overall, Hackathons at Cobalt exist because of the people that get involved. We can see that hackathons are evolving the Cobalt culture as people see the value that they bring. Let's have fun by working together, learning new things from each other, and by innovating!