Didn't have a chance to tune in live to The Security Leadership Gap: What We Need for Today's Organizations Webinar?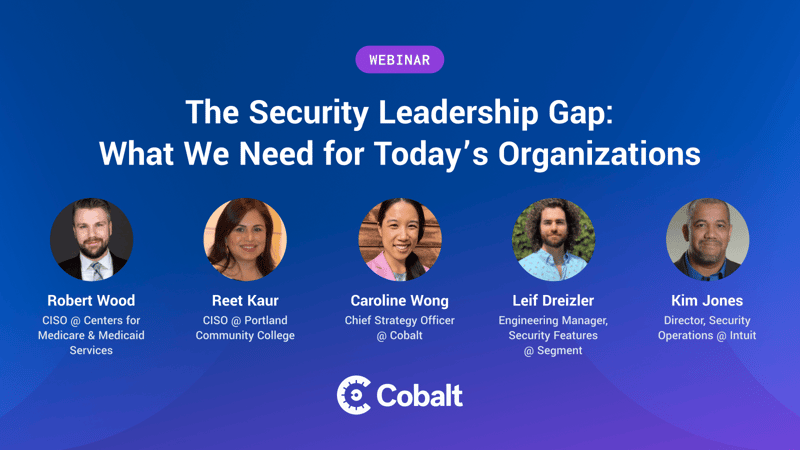 Here's what you missed —
Led by Caroline Wong, Chief Strategy Officer at Cobalt, panelists Leif Dreizler, Reet Kaur, Kim Jones, and Robert Wood covered the good, the bad, and the ugly for today's security leaders. Panelists dove into a candid conversation covering topics such as:
Hiring, retaining, and growing security talent in a competitive recruiting landscape. How to prioritize (and manage) the day-to-day workload while roles are open. How to enable security teams to be more agile and efficient in the face of an ever-evolving digital landscape.
Watch the on-demand webinar for the full discussion on what's needed for today's organizations. Here are a few of the highlights, key takeaways, and important questions to consider for your security team:
Foster a Culture of Transparency and Wellbeing
Adopting a radical transparency mindset is key. Security professionals work hard, and burnout is inevitable. How do you prevent burnout, and what is your company doing to manage the workload?
For instance, it helps set a culture of transparency when leaders set an example by taking mental health days when needed. "The best thing we can do as security professionals and leaders is model that behavior," shared Kim Jones, Director of Security Operations at Intuit.
The Great Resignation brought a huge turnover. It's essential to ask yourself and your team how you practically manage when you have open roles on your team to fill. Or when folks on your team leave and you need to cover their work.
Security organizations often operate as service organizations, driven by a lot of requests. Overworking employees doesn't help the industry — Caroline Wong explains the importance of learning to work in a different way to prioritize personal wellbeing in the full webinar.
Be an Accessible Leader
"People don't leave jobs, they leave managers."
Security leadership is hard, and managing security teams is hard. But, it's important to hire and retain great employees that drive your organization forward. As a security leader, how are you positioning your team for future growth? How do you recognize and reward your people?
When growth is displayed, give kudos to celebrate the big and little milestones and promote recognition within your team and beyond to the greater organization.
"We're human, and stuff in life happens."
It's important to recognize the difference between what is urgent and what is important and outsource work if needed. Tell people it's okay to take time off, and model that behavior as a security leader. Let it trickle down accordingly to be an example to peers.
Showing people you trust them to manage their time effectively is a key point, and sometimes this means shifting away from a "this is how we do things because this is how we've always done things" mentality. There's an empowerment to giving people space and trust.
Meet the Host and Panel
Caroline Wong | Chief Strategy Officer, Cobalt Caroline Wong is the Chief Strategy Officer at Cobalt. As CSO, Caroline leads the Strategy, Security, and People teams at Cobalt. She brings a proven background in communications, cybersecurity, and experience delivering global programs to the role. Caroline's close and practical information security knowledge stems from her broad experience as a Cigital consultant, a Symantec product manager, and day-to-day leadership roles at eBay and Zynga. Caroline also hosts the Humans of InfoSec podcast, teaches cybersecurity courses on LinkedIn Learning and has authored the popular textbook Security Metrics, A Beginner's Guide.
Robert Wood | CISO, Centers for Medicare & Medicaid Services Robert Wood is the Chief Information Security Officer, Centers for Medicare & Medicaid Services.
Leif Dreizler | Engineering Manager, Security Features | Segment Leif Dreizler has worked in the information security industry for a little less than a decade in a variety of different roles. Leif joined Segment as an early member of the security organization and is now focused on the management of the Security Features Team as well as the development and execution of the team's roadmap.
Kim Jones | Director, Security Operations | Intuit Kim L. Jones is a 30-year intelligence, security, and risk management professional with progressive experience in all facets of information security to include strategy; governance and compliance; executive leadership; physical security; risk mitigation and business continuity planning.
Reet Kaur | Chief Information Security Officer | Portland Community College Reet has more than 20 years of extensive experience spearheading security, technology, and business transformations in diverse and ever-changing environments. Reet leverages technological adeptness and business intelligence to develop and execute robust strategies and roadmaps positioning PCC as an industry leader in a highly competitive landscape.