Reflecting back on how cybercrime and cybersecurity have developed over time and into what we see today is a step in the right direction for the future of protecting your organization from attackers. Just like technological advancements are on the rise, so is cybercrime. In fact, according to DARKReading, businesses suffered 50% more cyberattack attempts every week of 2021.
Security professionals have paid close attention to the trends over the years and how each one affects the trajectory of cybercrime in the years to come. Cybercriminals are not going to stop now, so it's important to stay in the know about trends that affect 2022.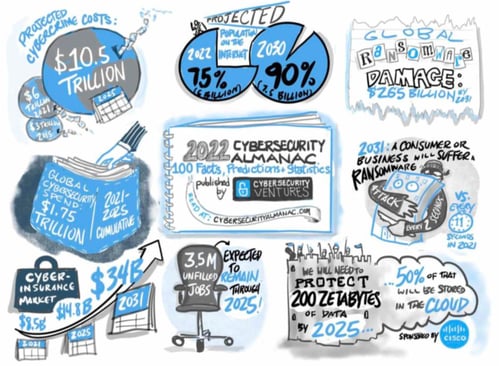 How have trends changed in 2021, and what does this mean for 2022?
As we look ahead, it's important for organizations to be alert and receptive to security. Here are some stats and predictions to keep in mind for the next year:
Small Business Cybersecurity Statistics
Industry-Specific Cybersecurity Statistics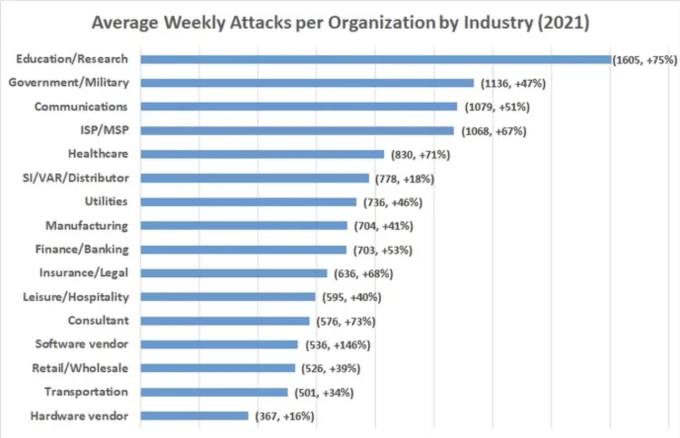 Healthcare
Education
Financial Services
When it comes to protecting your organization, every business size, type, and industry is at risk of a cyber attack. Ransomware, phishing, and malware remain among the top threats organizations should be on the lookout for.
Ransomware Statistics
"Ransomware is not going anywhere in 2022, but we will see attackers evolve their strategies in light of heavy crackdowns and supply chain insecurities." - Kevin Breen, Director of Cyber Threat Research at Immersive Labs.
Ransomware attacks are predicted to keep rising and also increase in effectiveness. Ransomware can cause businesses irreparable financial and data losses, as well as hurt reputation.
Social Engineering & Phishing Statistics
It can be difficult to tell what is legitimate online today. Phishing attacks commonly occur across email, mobile, social media, and phone calls, where attackers aim to compromise sensitive information by falsifying messages that look like they are coming from a reliable source.
Supply-Chain Attack Statistics
Malware Statistics
The intent of malware is for attackers to infect computer systems and gain access. It disrupts systems and operations, compromising sensitive information, causing crashing and freezing networks, and more.
Top 5 Cyber Attacks of 2021
1. CNA Financial
CNA Financial is one of the largest customized business insurance agencies in the United States. In March of 2021, the company suffered a $40 million loss due to a ransomware attack. The payout was necessary to continue operations after the website remained closed for weeks after the attack.
2. Colonial Pipeline
In May of 2021, the American oil pipeline system Colonial Pipeline fell victim to a major cyber breach that leaked passwords, data, and other sensitive information. The company was forced to shut down for the first time in 57 years and ended up paying $4.4 million in ransom to the attackers in response to the threats.
3. JBS USA
JBS USA, a leading global food processing company, temporarily closed operations due to a damaging attack on the American subsidiary of the business. Beginning in February 2021, attackers carried out data exfiltration for months, causing a ripple effect on the nation's meat supply chain. Eventually, the company paid $11 million to attackers due to the threat and impact of closure.
4. Kaseya
Kaseya, an IT service provider, fell victim to a large-scale ransomware attack in July 2021 where attackers leveraged a vulnerability compromising 800-1500 businesses in their customer base around the world. Attackers were able to install malicious software and then perform ransomware encryption.
5. Brenntag
Brenntag is a global chemical distribution company in over 77 countries. In May 2021, the company was targeted by attackers compromising 150 GB of valuable data and demanding $4.4 million in ransom payments overall. Medical and other sensitive information was stolen, causing the company to begin taking steps to strengthen and protect their systems.
Securing Your Accounts is Crucial
No company wants to land as another headline about a devastating cyber attack. Finding a security solution to protect your organization against cybercrime is crucial in building and maintaining a strong security posture.
Crowdsourced Software Security Testing Platforms, Traditional Consultancies, and Pentest as a Service vendors are all options within the pentest security market, but each differs in how it sources, vets, and connects pentesters with customers.
If you're curious to find the vendor best suited to bringing you closer to finding, fixing, and preventing vulnerabilities, check out The Buyer's Guide to Modern Pentesting.