Cobalt.io has a distributed workforce spread across three offices, and we employ non-office based employees across the world. We thought further down the road that we would go more towards a completely distributed model but figured we had years to decide. Turns out, Cobalt.io would be pushed into this model the moment we started to ask ourselves if it was possible.
Ultimately, Cobalt.io is extremely fortunate that the nature of our business lends itself nicely to remote work without implementing too many drastic changes. As a distributed team, we are already proficient in Zoom, Slack, VPN usage, and working with distributed colleagues. So when the time came for Leadership to ask themselves whether or not we should work remotely due to the COVID-19 crisis, the answer came early and decisively- Yes. Our leadership team made the decision that working remotely was the best decision for our team before most of the world was mandated to work from home.
Despite our comfort and familiarity with remote work, the global pandemic presented us with more to think about than we could have imagined. Almost every single employee would now potentially be dealing with a variation of situations: lock-downs, shelter-in-place, being quarantined, family and friends getting sick, family getting laid off, or even getting sick themselves. There's no doubt that everyone is dealing with a magnitude of stress, anxiety, and isolation. On top of that, our employees who were used to coming into the office to talk with and gain support from each other would no longer be able to do so.
So our new challenge was this: How do we continue to support each other from afar in a time we need it most?
At Cobalt.io, two of our values are: Lead with Grit and One Cobalt. These values have been highlighted the past few weeks as we navigate the transition.Our employees have demonstrated leading with grit and coming together by taking it upon themselves to start various creative types of remote events which have brought employees together throughout this time period.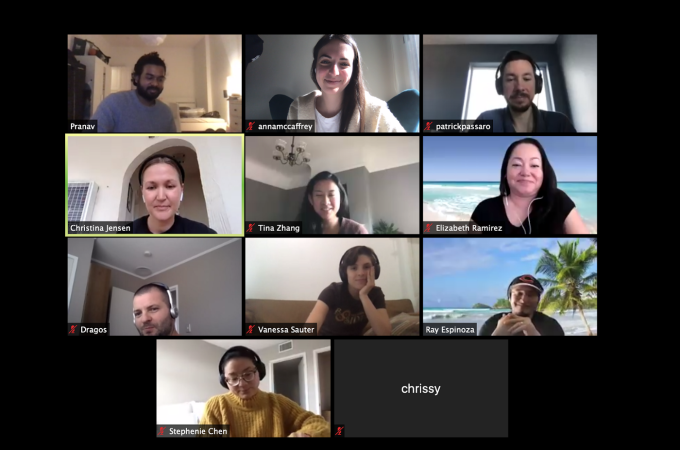 Some of these online events open to the entire company include:
Meditation: Our BDR manager in Berlin Haley Meng narrates a weekly 30 minute guided meditation.

Supporting local businesses & the community: we recognize that we are extremely fortunate to be able to move our company to a remote model and that others in our community may not be as fortunate. Jonathan Davis, Manager of Customer Success in Boston, and Alessandra Ristits, Senior BDR in Berlin, have taken it upon themselves to create lists of local businesses and trusted organizations so that we can all give back.

Cook-offs: Andrew Valencia, Senior Account Executive in SF, and Chrissy Ockerbloom, Senior Demand Generation Manager in SF, have started a cook-off series where they talk through their cooking techniques and "compete".

Open Zoom video calls: Dawid Czajka, IT Specialist in Berlin, and Kerem Sevencan, Software Engineer in Berlin, have created a 24/7 open zoom call where anyone in the company can join with and connect with or work alongside each other.

Collaborative Music Playlists: Nathan Foulds, our Senior Customer Success Manager has created a work-from-home playlist that all employees can contribute and listen to together.
Over the weeks as Cobalt.io gets into a new rhythm of working completely distributed, there may be more events and more collaborations that pop up. While those employees located around our hubs will and do miss seeing each other, these virtual events have given employees the chance to interact even more with employees that they might not interact with.
COVID-19 is causing a remarkable amount of changes, both troubling and stressful. We've found as a People Team that our employees are already ingrained with a sense of community, and have taken it upon themselves to reach out to one another to build a bridge and create camaraderie. As Andy Grove once said, "Bad companies are destroyed by crisis, good companies survive them, great companies are improved by them." I'm convinced that on the other side of COVID-19 we will be an improved company. "In a time of global isolation, we've managed to grow even closer together cross-company.We hope these unique tips can bring others close together in a time we all need it most, too.