Connect with your favorite security researchers
Bug bounty programs are great for connecting businesses with skilled security researchers from around the world. At Cobalt, we are always looking for new ways to increase these collaborations. So we are excited to announce our latest addition to Cobalt Central, that allows response teams to send personal invites to researchers.
With the new feature you can now easily invite more security researchers to a private invite-only program, and/or boost awareness to quality researchers about your public programs. This invitation feature can be used in two ways:
1. Invite researchers via their Cobalt profile
The Cobalt researchers have built awesome profiles, with all their info, ratings, and rankings — all the info you need to assess their quality. Now you can look through profiles on the Hall of Fame, and invite the individuals you'd like to work with through the push of a button.
2. Invite researchers via e-mail (whether they have a Cobalt account or not)
You might have received reports via email from a security researcher that you want to reward or keep working with. Now, even if this researcher is not a user on Cobalt Central, you can simply drop their email through our Invite Researcher feature and they will get an invite to your program on Cobalt (signing up for a user account at Cobalt if necessary). This gives instant access to any researcher you desire to have on your program.
We have already seen a high usage of this new feature and are looking forward to see continued collaboration between businesses and the skilled security community.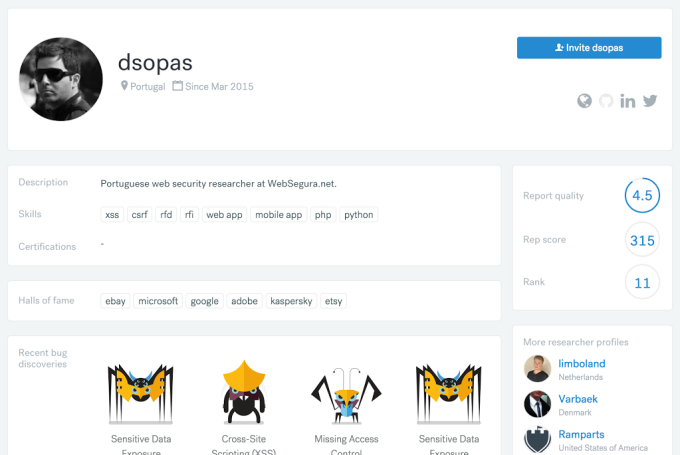 Here is a picture of a researcher's profile. Notice the Invite button at the top right.