Almost everyone is aware of the fact that new year's resolutions are almost always dropped by March. In fact, a study shows that nearly 80% of people who made a new years resolution has failed to keep them by the start of February. With this statistic in mind, our people team wanted to set up our employees for success for the new year, and throughout the year as well. A wellness program first occurred to me after attending an awards ceremony for the Bay Area's Healthiest Employer. Wellness programs are gaining traction across the corporate world, and attending these awards proved that. Multiple companies across the San Francisco Bay Area are beginning to invest their time and resources into these programs in order to help support employees.
Our drive to create the new wellness program at Cobalt came from our desire to provide our employees with materials to live more meaningful lives inside and outside of work. Traditional wellness programs in companies are generally driven by Health Insurance providers as a way to promote healthy living and healthy choices in order to drive down costs for the company as well as the Health Insurance providers. While this is a well-meaning tactic to help lower costs for every stakeholder (employee, company, and provider) this can sometimes come across as insincere and putting the needs of the company first.
Considerations in Designing a Wellness Program
There were certain considerations that we took when designing our wellness program for 2020. How, as a start-up with 100+ employees, can the company give back to the employees' lives in a meaningful way, while keeping people engaged and also staying low budget? Based on this criteria, our wellness program would ideally need three main goals:
Building a program that would work and engage employees equally across three separate offices in three separate time zones.

This would be our first official Cobalt wellness program, so we didn't want to allocate too much money without knowing if employees would engage with the program.

It would have to fit into our company culture, which is made up of smaller teams and loves to learn while also keeping a competitive spirit.
In the end, we decided to settle on monthly challenges that would occur throughout the new year with a focus on different areas of wellness including financial, mental, emotional, and physical wellness. For example, to kick off the new year we had a screen time challenge that challenged employees to limit their screen time to two hours per day on social media and watching television for five hours per week. At the end of the month, everyone who completed the challenge was entered to win the new Amazon Fire. While some companies opt to make these team challenges in order to increase participation, we opted to make a prize at the end of the year for the teams that participated the most.
Anticipating and Navigating Challenges
When I look to implement policies or new processes I always try to anticipate the challenges. Some challenges that I anticipated were the fact that this would cost money and the challenge of getting employees to participate as well as making sure people were honest about tracking the times that they completed the challenge.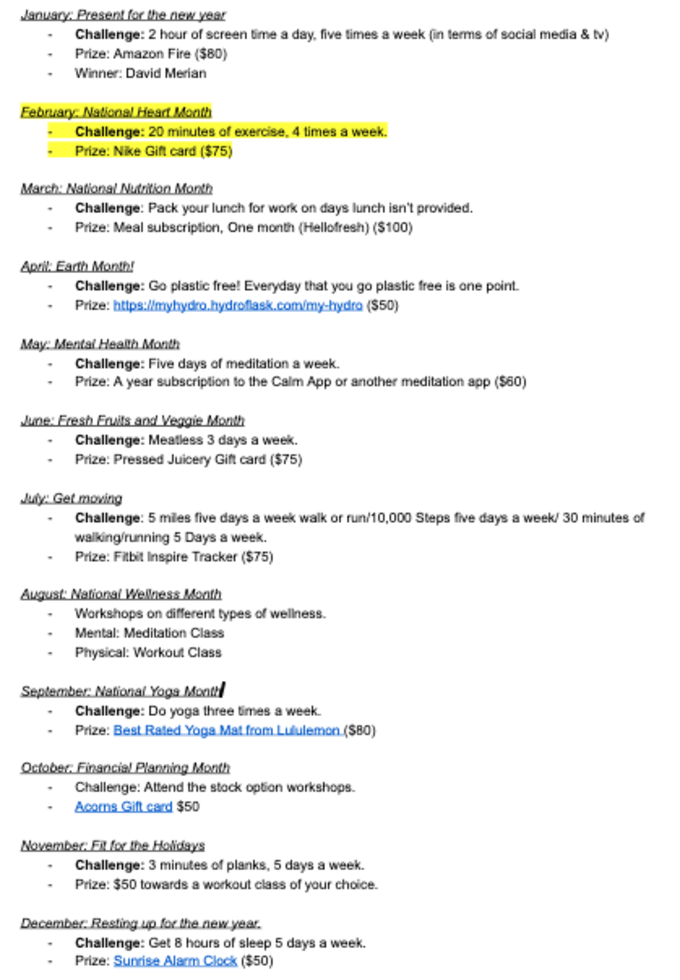 To address the financial part of it, I was able to create this program for just under $800, for all the prizes at the end of the month. It's a low cost way to pump people up to complete their challenges, and for most companies $800 is extremely cheap on the budget spectrum. Of course, if you have more money to spare you can pump this program up with adding in workshops hosted by leaders in your area, purchasing classes, or adding in more prizes for everyone who completes the challenges at the end of the month. That's what I love about the monthly challenge format- it's completely customizable to your company's culture.
The other more specific challenge was employee participation and honesty. The best method to ensure that your employees will participate is to ask your employees before you publish the program. This can be done by a company-wide survey or by individually asking employees that you think will be candid with you on their feedback. These same employees will feel a sense of pride in knowing that they helped to establish this program, and can be used for ambassadors for the program, also helping to ensure honesty and participation across the offices.
The Importance of Executive Support
Most of the participation will come from how you brand it, and it always helps when you're able to get leadership involved in the programs. When the leadership team in the company gets involved in programs it lets employees know that this program is something they see value in and therefore the company should see value in. Getting the leadership team involved also helps of the branding of the program as it's then perceived as an official program, encouraging other employees to join as well.
The last challenge that I'm anticipating is keeping the participation engagement high as the year goes on. My goal is to continue to amp up the program by adding employee led workshops throughout the year, and being consistent in raffling off the prizes.
Do you have run a wellness program at your office? And do you have any tips for employee engagement and participation? I would love to hear your ideas!